Polish cultural diplomacy and building the "Polska" brand through culture
Centre for Europe of University of Warsaw and Centre for International Relations invite you to a webinar
"Polish cultural diplomacy and building the "Polska" brand through culture: experiences and perspectives".
The webinar is part of a project entitled "Balkan Ambitions and Polish Inspirations". This is a public task financed by the Ministry of Foreign Affairs of the Republic of Poland within the grant competition "Public Diplomacy 2022".
THE DEBATE WILL BE AVAILABLE ON YOUTUBE CHANNEL: Centrum Stosunków Międzynarodowych from September 30, 2022, 5pm CEST.
Our guests will be:

Dorota Jurkiewicz-Eckert
Art historian with interests in international relations and political sciences. Researcher and lecturer in the Centre for Europe, University of Warsaw.
Bożena Gierat-Bieroń, PhD.
Associate Professor and lecturer at the Institute of European Studies, Jagiellonian University. She also served as the co-ordinator of MA Euroculture Programme and worked for National Centre of Culture in Warsaw.
 Aleksander Laskowski
Music writer, broadcaster and translator. He serves as Warsaw correspondent for the British Opera Magazine and works at the Fryderyk Chopin Institute in Warsaw as the press spokesman.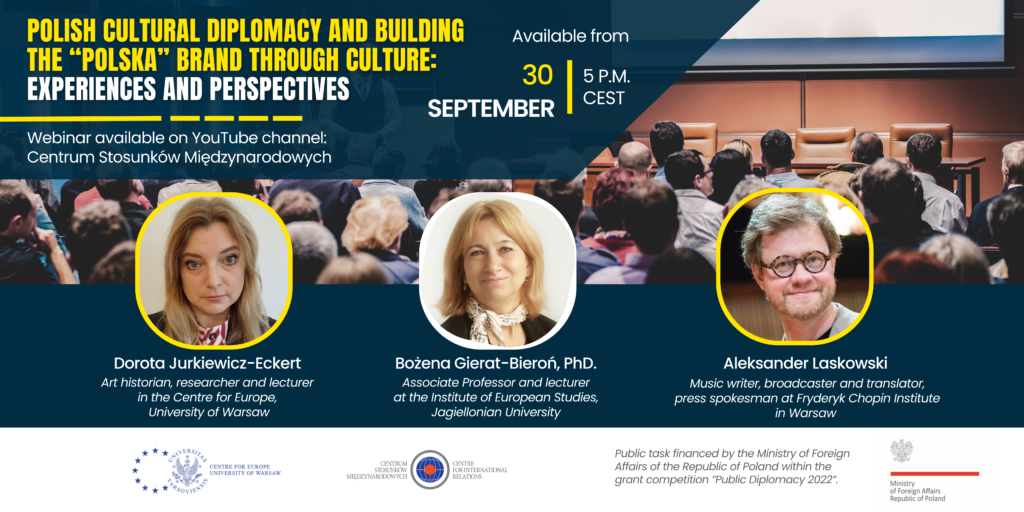 The debate will be held in English