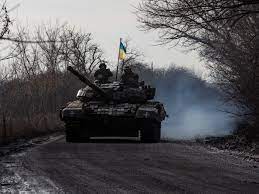 BILATERAL WEBINAR
Perspectives on the Russo-Ukrainian conflict
Concept Note
The seismic tremors instigated by the Russo-Ukrainian war have sent shockwaves
around the world, with significant political, economic, and military consequences far
beyond the acute vicinity of the war front itself. Countries such as Poland have faced the
immediate brunt of sustained fallout from the conflict, but countries further afield such
has Pakistan have also undergone significant changes and faced considerable
multidimensional pressures as result of ongoing hostilities.
It is for this reason that a discussion on the multifaceted nature of the ongoing
Russo-Ukrainian conflict is both timely and relevant. In order to analyse the international
challenges that have emerged since the eruption of hostilities in early 2022, particularly
from the viewpoints of experts in Pakistan and Poland, the Centre for Aerospace and
Security Studies (CASS), one of Pakistan's premier research-based think tanks, in
collaboration with Prof. Malgorzata Bonikowska at the Centre for International Relations
(Poland) & THINK TANK (Poland), is organising a webinar on "Perspectives on the
Russo-Ukrainian conflict".
This timely initiative on the part of two groups of thinkers with rich insights and
perspectives will help shed light on the impacts of the ongoing war, as well as offer an
occasion for shared learning and an exchange of views.
Webinar Programme
Wednesday, 8 November, 2023
Pakistan Time (Poland will be -4 hours)
1230-1235 hrs: Introduction by Moderator— Asad Ullah Khan, Senior
Research Associate, CASS
1235-1240 hrs: Introductory Remarks by Air Marshal Farooq Habib (Retd),
Senior Director & former Vice Chief of the Air Staff, PAF
1240- 1255 hrs: Evolving Situation in Russo-Ukrainian War: Poland's
Perspective
Remarks by Ambassador Tomasz Lukaszuk.
1255-1305 hrs: Evolving Situation in Russo-Ukrainian War: Pakistan's
Perspective
Remarks by Air Marshal Ashfaque Arain, Advisor to CAS, PAF
On CASS Affairs
1305-1320 hrs: Evolving Situation in Russo-Ukrainian War: Poland's
Perspective
Remarks by Prof. Malgorzata Bonikowska, Professor and
President of Thinktank (Poland)
1320-1335 hrs: Economic fallout globally and in Pakistan
Dr Usman W. Chohan, Director Economic Affairs & National
Development, CASS
1335- 1340 hrs: Vote of Thanks by Air Marshal Farooq Habib (Retd), Senior
Director & former Vice Chief of the Air Staff, PAF
1440 hrs: Webinar Conclude