Poland's involvement in activities for the green transformation – the European Green Deal
Centre for Europe of University of Warsaw, Centre for International Relations and Institute of Central Europe invite you to a webinar
 "Poland's involvement in activities for the green transformation – the European Green Deal".
 The webinar is part of a project entitled "Balkan Ambitions and Polish Inspirations". This is a public task financed by the Ministry of Foreign Affairs of the Republic of Poland within the grant competition "Public Diplomacy 2022".
THE DEBATE WILL BE AVAILABLE ON YOUTUBE CHANNEL: Centrum Stosunków Międzynarodowych from September 14, 2022, 5pm CEST. 
Our guests will be:

 Anna Wójtowicz, PhD, Jean Monnet Chair of the European Union, Socio-Economic Collegium of Warsaw School of Economics (SGH), Member of the Polish European Community Studies Association (PECSA)
 Marek Gruchelski, Prof., Warsaw School of Economics (SGH),
Warsaw Management University
 Krzysztof Księżopolski, PhD, expert on economic and energy security and energy policy, Associate Professor, Warsaw School of Economics (SGH)
 Izabel Zygmunt, European Commission's European Green Deal expert in Poland, Team Europe expert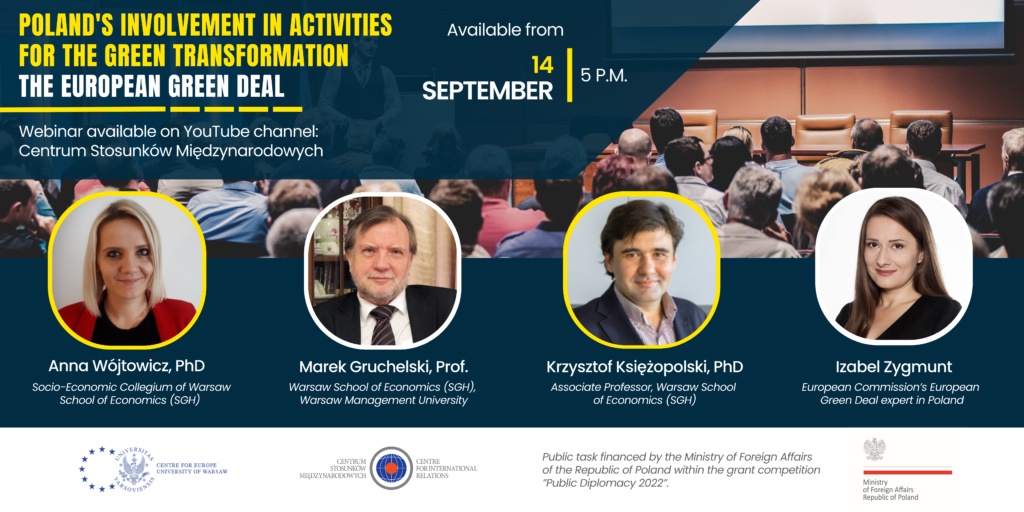 The debate will be held in English