Road To Warsaw Security Forum, 17-18 November 2020
Join Warsaw Security Forum for an online sessions which will take place take place on the 17th and 18th of November 2020!
The Warsaw Security Forum (WSF) is a leading European platform devoted to transatlantic cooperation and focused on elaborating shared responses to common security challenges.
The WSF annual conference convenes over 1500 participants from 40 countries, among others heads of state, ministers, leading personalities of international and non-governmental organizations, high-ranking representatives from business, the media, academia, and civil society.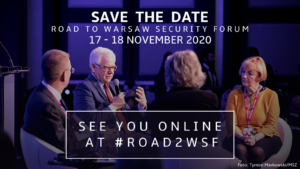 Find more: https://warsawsecurityforum.org/road2wsf/