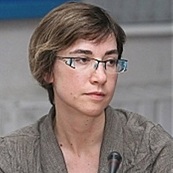 Agnieszka Weinar, Ph.D. Associate
Agnieszka Weinar has a Ph.D. in Political Science from the University of Warsaw, where she also was a research fellow (Centre for Migration Research) and Assistant Professor (American Studies Center). Currently she is a research fellow at the Migration Policy Centre in European University Institute, Florence and a Visiting Scholar at the Carleton University, Ottawa. She was also a Visiting Fellow at the Robert Schuman Centre of Advanced Studies in Florence and a Visiting Researcher at the University of Kent Brussels School of International Relations. In 2007-2010 she worked at the European Commission DG HOME (JLS) as a policy officer responsible for external dimension of EU migration policy.
Her research has focused on international dimension of migration policy and more specifically on Europeanization of migration policies in the context of enlargement. Her current research interests address external aspects of EU migration policy and include questions of Europeanization in the EU neighbourhood, global human capital flows, labour migration to the EU, emigration from the EU, return migration, as well as migration and development agenda. Its geographic covers Central European EU Member States, Eastern European EU neighbourhood, Western Balkans, South Caucasus and Russian Federation, but also the US, Canada and Australia.