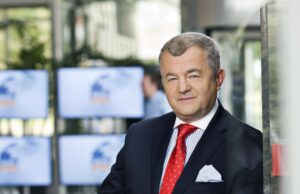 Jarosław Gugała, Expert
Specialisation: spanish-speaking area

Between 1990 and 1999, Gugała was associated with Polish Television (" Wiadomości", "W centrum uwagi"). In 1992, he took up the post of director of the first programme of Polish Television in this media institution, and then became director of TAI TVP. In 1999, he was appointed Ambassador Extraordinary and Plenipotentiary in Uruguay. He held this office until 2003. After leaving diplomacy, he joined the commercial TV station Polsat as a presenter and publisher of the programme " Informacje" and then " Wydarzenia".
In September 2007 he became the head of this programme. Since 2008 he has also worked for Polsat News as a presenter, among others, of the magazines "Gość Wydarzeń" and "Wydarzenia Opinie Komentarze". From February 2011 to August 2012 he held the position of director of the Information and Publicity Division within the structures of the Polsat Group.
In 2021 he became a co-worker of the internet radio station Halo.Radio, among others as its regular columnist.