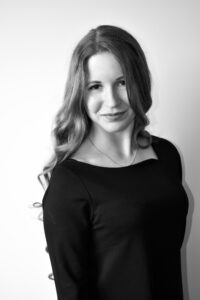 Eugenia Sargina, analyst
Specialisation: Ukraine, Russia Post-Soviet area
She graduated with a bachelor's degree in law from the National Academy of Internal Affairs of Ukraine in Kiev. She received her Master's degree (major: international relations) in Warsaw at the Vistula Academy.
Since 2018, she has been associated with the Centre for International Relations Foundation, where she works as an analyst and project manager. In the last four years at CSM, she has co-organised more than 35 offline and online conferences, 4 press briefings, 3 evening galas. Since 2020, due to the change in the consumption of marketing content during the pandemic, she has upgraded the work of the CSM foundation by implementing video content marketing. She has edited more than 200 videos, which include online meetings, book talkies, conferences, debates, expert meetings and promotional videos.
She has also collaborated in the creation of video content with organizations such as Orange (for the 'Miasteczko Myśli' conference), Digital University ('Masters&Robots' conference), the Institute for Innovation in Politics in Vienna, the Hong Kong Economic and Trade Office in Berlin and Konrad Adenauer Foundation.